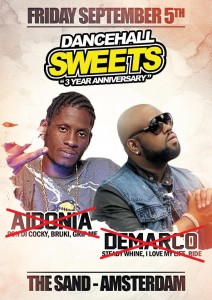 Aidonia, born Sheldon Lawrence, will not be at Dancehall Sweets in Amsterdam on 5 September.
Quite the disappointment for Dutch dancehall fans and you might be wondering WHY?
How is it that this is the third dancehall artist within a month's time that was promised by Dutch promoters and in fact was not there?
Dancehall Sweets
Dancehall Explorer contacted the organisation of Dancehall Sweets, which claims they were under the impression of having legitimately booked both Aidonia and Demarco for their 3 year anniversary event. A person who used the alias 'Steven Elements' contacted them claiming they were a booking agency which could arrange an exclusive performance by Aidonia and Demarco. The purported booking agency went as far as sending a signed contract. Regrettably it was a scam and the signature on the contract was forged. Several payments amounting up to € 28000 had already been made to the alleged booking agency, who the swindled organisation says turned out to be just a scammer living not too far away. After all this Dancehall Sweets remains positively hopeful to treat the Dutch fans to performances of both artist in the future, this time using the correct channels.  
Aidonia's response
Aidonia smartly released the below video stating he will not be performing at Dancehall Sweets. Grieve not too much though, for he also mentions that he will be in Europe later in 2014.

What about Demarco?
Shattering our dancehall loving hearts we were sad to hear that the I Love my Life-star would also be missing at this event. We contacted his management for a response and of course to ask when we might have the pleasure of welcoming Demarco to Holland. At the time of publishing it remains uncertain whether Demarco will perform at Dancehall Sweets in the near future and Demarco apologizes to the fans that were hoping to see him at the 3 year anniversary event in Amsterdam.