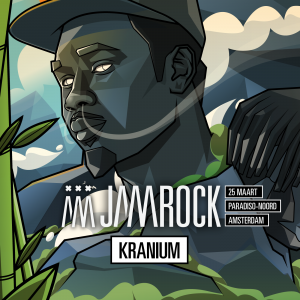 It's Saturday 26 March 2016 and right now my right hand is hurting bad and my throat is sore. You wondering why? Well, let me tell you why…last night was the Jamrock XL party and the vibes were so gratifying, I found myself continuously banging my hand on the stage to big up the selector and singing shouting along to every tune. A party that was described as "dancehall heaven" (by @qsuze on Instagram)  and that has kept me turnt till now.
Dancehall DJ's at Jamrock XL
The first DJ I heard was DJ Richer, who treated the crowd to fun, uptempo tracks and got that party vibe going. The plan for the night was composed behaviour and taking it easy, but when DJ Richer threw on the daggering tunes*, lord have mercy, the desire to bruk out took over.
Next up was DJ D-Train, one of my favourite DJ's, so that couldn't go anywhere but up like 7. DJ D-Train differentiates himself with his fast-paced juggling and lots of pull ups, making him popular amongst those who look for a more authentic type of dancehall DJ. During his set Jamrock passed out airhorns to several patrons to dynamize the crowd even more, something I had not previously seen in a Dutch dancehall party. Big up to Jamrock for going the extra mile in creating that genuine bashment feeling.
To close it off there was DJ Madbwoy, a young and talented DJ with an obvious love for the Gaza.   Most noticeable was his interaction with the public, where most DJ's are looking down at their equipment with an intense focus, Madbwoy regularly looks at – and plays for – the crowd. He had the challenging job of cooling down the heated crowd at the end of the night, usually done by playing reggae music, so I was elated when he still sneaked in a few hard dancehall tracks. Especially because they were not your average dancehall songs, but the less mainstream tracks like "China Made" by I-Octane.
Party Shot/Party Flop Conclusion
As Jamrock gradually divulged the line up during the month leading up to the event, my excitement grew as I learned who would be providing the music. Naturally I was already down with this party when I saw Kranium on the flyer, but add to that the musical blessings of DJ D-Masta, DJ Richer, DJ D-Train and DJ Madbwoy and it indeed emerges like "dancehall heaven". On the night itself I missed most of D-Masta's performance cause the line to get in was long and…yeah I guess I was being my Caribbean self and left the house too late as well. So nothing to report on D-Masta's dj-ing skills, but he was also the MC for the night and he did that in a true Jamaican fashion, encouraging the ladies to give it their all on the dance floor. In conclusion,  Jamrock brought an authentic dancehall party to Amsterdam, so my expectations for next month's Jamrock XL party with Aidonia are wayyy up!
Pros: not a single hiphop track was played, enough space to dance, airhorns (!)
Cons: inferior sound, long line to get in
* On a side note, often daggering and other sexually styled ways of dancing are erroneously called 'ratchet' or 'slutty', perhaps this is due to the cultural differences in Holland or lack of dancehall's cultural background, but let's change that. In the words of RDX "Daggering neva stop", so just keep calm and enjoy the show!