2000 Springbreakers, 72 hours of bare madness,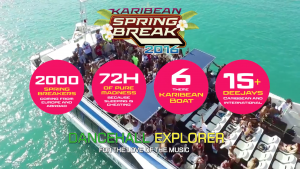 6 party boats and 15 international DJ's all on the Spanish coast. From 5 to 8 May 2016 Salou, Spain will be taken over by foam canons, cocktails, water guns, dancehall music and non stop feting.
And Dancehall Explorer will be there to capture the fun in the sun.
Soca vs Dancehall and Jamrock party boats at Karibean SpringBreak
Representing for the Netherlands will be Soca vs Dancehall and Jamrock. Three nights in a row there will be theme parties in clubs and on Friday and Saturday there will be party boats during the day. Both Soca vs Dancehall and Jamrock will have their own boats and rock them Caribbean style! To ensure a spot on one of the boats, go to the Karibean SpringBreak website and select your favorite party boat when buying your ticket.