On 27 February 2015 it was once again time for Soca vs Dancehall's annual Jouvert Morning Edition.
Jouvert Morning
The Jouvert Morning edition is a bacchanal characterized by patrons coming out in their pyjamas and getting on bad. For those of you not familiar with "jouvert morning" it's a term that comes from the French jour ouvert which translates to the break of dawn. Many Caribbean islands celebrate this break of dawn during Carnival season by hitting the streets very early in the morning wearing their PJ's, bathrobes or any other crazy sexy outfit they feel comfortable in. With a large number of islanders here in Rotterdam it's no surprise that the Soca vs Dancehall organization holds a successful Jouvert Morning edition every year. This year was even a little too successful as the line outside was so long that the party sold out before everyone got in. With over 700 guests inside Club Empire was packed, which was rewarding to see the turn out for this party, but at times a bit constricting. Soca vs Dancehall promises to look for a bigger venue to accommodate all the soca and dancehall lovers in the future.
Red Eye Crew and Dancehall Queen Kalalisha live at Club Empire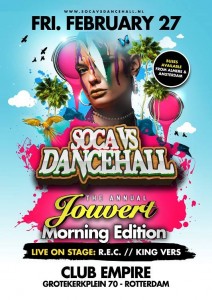 As expected it was a great experience to see Red Eye Crew performing live for the first in the Netherlands. It was clear to see that they put a lot of effort into their performance from the outfit changes to their high energy dances. The 2013 Caribbean Dancehall Queen Kalalisha was completely in her element, taking the stage like a professional athlete to show the Dutch audience how one earns the title of Caribbean DHQ.
Party Shot / Party Flop
Pros: REC's first performance in NL, a hype crowd that was ready to party, SvD brought the Caribbean to Rotterdam with this party
Cons: it was almost Soca vs Soca…not enough dancehall, long line
Check out the Soca vs Dancehall party report video and let us know what you think: